Home | In the Press | Coco's Apartment | Villa Rates | Nature Reserve | Bird Watching
Book a Room | Book a Car | Book a Flight | Rent a Bike | Map | Photo Album | Trinidad Stopover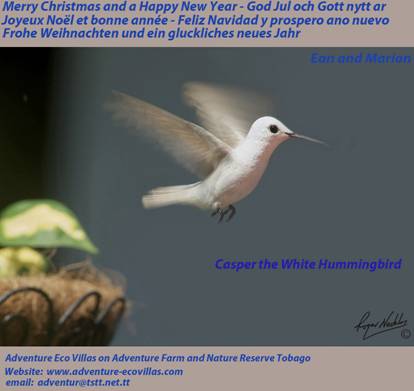 Adventure Ecovillas earns the 2010 Green Leaf Award from the Environment Management Authority (EMA)

"The Adventure Farm and Nature Reserve at Arnos Vale in Tobago utilises solar power and engages in sustainable agriculture. The reserve was awarded for being a business venture that has found the ideal balance between being a haven for wildlife and being a model for sustainable eco-tourism."

Best bird watching in Tobago!
You will enjoy your holiday in this unique location at the Adventure Farm, Tropical Gardens and Nature Reserve.

Adventure Eco Villas is nestled amongst the Tropical Flora and Fauna of a private nature reserve and organic fruit farm. Only minutes away from palm-fringed beaches with excellent snorkeling. You will appreciate the elegant comfort, serenity and nature of this unique jewel of Tobago.
We would like to welcome you to Adventure EcoVillas, Tobago
The villas are made of Guyanese green heart wood and furnished in a Caribbean style. Each luxurious villa consists of a large bedroom with air-conditioning, ceiling fan, cable television, telephone and a bathroom with bath/shower and hair dryer, overlooking a small private garden.

Living Room/Dining area has a panoramic view of the nature reserve and the modern kitchen is fully equipped. Cooks and baby sitters can be arranged at your request.

Adventure Eco Villas afford the opportunity to appreciate the beauty and wonder of this beautiful Isle of Tobago. Situated only 20 minutes away from the airport and the main town of Scarborough. A championship Golf course is only a few minutes away, along with many of the island's small restaurants. We cater to your every request and can make arrangements for fishing, scuba diving, snorkeling, tennis, sailing, bird watching and trips to Trinidad overnighting at our sister property the Gingerbread House.

So come and relax with us as a family, with your friends, or for your wedding or honeymoon. You will go to bed to a symphony of sounds of the night orchestrated by serenading owls and night stars, illuminated by fire flies. You will wake up to a chorus of whistling birds as they welcome a new dawn.

These photos were taken at the Adventure Farm and
Nature Reserve Bird Observation Centre by guest David Lingard
See more Birds here